Tahoe City Chiropractic
Video Tour
Click anywhere to play
---
The professionals at Tahoe City Chiropractic are committed to getting you out of pain fast in the most cost effective way possible. We are also very willing to help you achieve wellness in your mind, body and spirit. Doctor Schroeder has developed a unique alternative medicine approach combining the teachings of chiropractic, martial arts and wellness seminars into a singular and effective approach towards reaching and maintaining the delicate balance of health and continued healthcare.
We are a high level chiropractic practice helping people in Tahoe and Truckee with natural, drug free pain relief. People are taken care of based on their individual needs and their desire for reclaiming, maintaining and advancing their healthy lifestyle.
Whether you call (530-583-7475), walk in (645 W. Lake Blvd., Suite 3, Tahoe City, CA 96145), or email, your experience begins with our friendly, knowledgeable staff. We specialize in making you feel at home in our office and genuinely care about meeting and exceeding your expectations. We can help you with information from our full service insurance billing center and also welcome working with those who have other financial needs and considerations. Our most important goal is to allow you to get the care that you need without the added stress associated with the typical office environment. We want you to feel cared about as well as cared for.
We provide you with the highest level of professional service available. Our work is concentrated in the area of decreasing pain with drug free, natural methods. Most of our patients are healthy, active people who want to be pain free in order to do the things that they want to do.  We also welcome folks who have a chronic health challenge or disability. Your needs are important to us and we have a very high satisfaction rate among our patient population.
Don't just take our word for it, read some testimonials…
Tim Schroeder, D.C.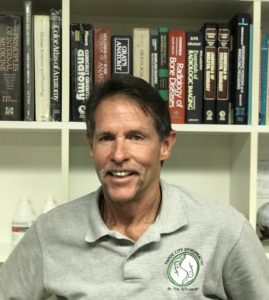 Dr. Tim is an active person involved in a variety of professional and personal activities. He feels that living a balanced life enables you to reach your greatest potential in both professional and personal development. Dr. Schroeder has owned and operated Tahoe City Chiropractic for over 23 years. He continues to blend the latest developments in the science of chiropractic by participating with regularity in continuing education. He studies health and healing on nearly a daily basis. He is certified by Target Training International as a Professional Behavioral Analyst and he has extensive training in the analysis of Personal Interests, Attitudes and Values. He has been a featured speaker across North America on the subjects of chiropractic philosophy, life balance and the emotions of personal economics. In addition he maintains a passion as a fifth degree Black Belt and certified Master Instructor in the art of Tang Soo Do karate. He is the Chief Administrative Office of the non-profit, health and wellness group, The World Ki Gong Club. Dr. Schroeder resides in Tahoe City, California with his wife, Sha. View Dr. Schroeder's Curriculum Vitae.
Meet Dr. Schroeder in a Sierra Sun article about how he developed the work he is doing in Tahoe City
Shannon Peacock, D.C.
Dr. Shannon Peacock graduated from Palmer West College of Chiropractic in San Jose, CA. He was introduced to chiropractic at 14 for neck pain from playing football. He credits chiropractic for keeping him active while playing lacrosse in college despite a shoulder injury and the stress of competitive sports. Dr. Peacock graduated from Cal Poly San Luis Obispo in 1999 with a B.S. in Biology with a concentration in Anatomy & Physiology. After 13 years of "post graduate bartending" in Truckee, CA he returned to school to accomplish his lifelong dream of becoming chiropractor.  As an active person Dr. Peacock has practiced Bikram yoga since 2006 and is working on a 200hr Yoga teacher training to coach others in yoga practice while working on his post-graduate Diplomate in Rehabilitation (DACRB). He incorporates corrective exercise in chiropractic practice and is Webster Technique Certified while being well schooled in soft tissue techniques including Graston and Myofascial Release Technique (MRT). Dr. Peacock continues to educate himself in many aspects of health in order help as many people get out of pain and reach their health goals.
Sha Schroeder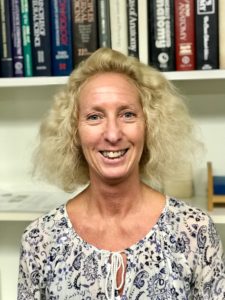 Your visit at Tahoe City Chiropractic starts and finishes at the front desk with Sha. As a mother of three, and a true Tahoe local for over 30 years, she has extensive knowledge in fitness, nutrition and wellness strategies. Her specialties include office management and she heads up our full service insurance billing center. If you are uninsured don't worry, talk to Sha and she will help you find a financial solution. There is no better person to make you feel more welcome and comfortable during your visit at Tahoe City Chiropractic. She is friendly as well as empathetic and we think that's important when you already have the stress of pain or injury. In fact, it's not unusual for people to stop in just to let her know how their doing. When you call 530-583-7475, ask for Sha and things will already be getting better.
Kaitlin Dick
Kaitlin is an aspiring Chiropractor who is set to start her chiropractic education in April 2018 at Dr. Tim's alma mater Palmer College of Chiropractic– West. As an (injured) collegiate soccer player, she found her passion for helping people find natural pain relief while studying Kinesiology at San Francisco State University. Following her affinity for helping other athletes in the athletic training room, she has worked within Physical Therapy and Chiropractic clinics for over 3 years. She is a certified CrossFit Level 1 Trainer and enjoys helping people get and stay fit and healthy from the inside-out. While assisting you at the front desk, she works directly with Dr. Tim to learn as much as possible before her professional training at Chiropractic College. Most importantly she really enjoys making your experience at Tahoe City Chiropractic as easy as possible.