Master Tim Schroeder…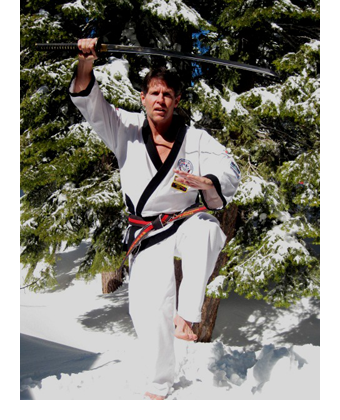 was promoted to Oh Dan in July 2012 under the direction of Grandmaster Robert Beaudoin and the World Tang Soo Do Association He began his martial arts study in 1972 at the age of 15 before taking a long hiatus from traditional study. In 1983 he began serious study again in a variety of martial arts including: Okinawa Te, Kenpo, Shotokan and Jujutsu. He found his martial "doctrine" when he was introduced to Tang Soo Do in 1989. Master Schroeder found that this mysterious martial art embodied the elements of all his previous training in addition to offering traditional foundations toward the ultimate goal of becoming one with nature.
As both a chiropractor and martial artist he blends the philosophy of innate healing potential and martial art energy into both his chiropractic practice and Tang Soo Do studio. Tang Soo Do has proven to him on numerous occasions that being involved in traditional martial arts has great physical, social and mental benefits.
He believes that any student has the potential to learn with proper leadership and guidance. He loves to see a student achieve their personal goals in the studio and in life. He has a strong belief that martial arts are a way of life not just an opportunity to work out in the Studio. On the other hand he believes that there can be a mysterious transformation when entering and bowing in to the Dojang. "Bowing in says that the student is ready to open up to new physical and mental territories."
Master Schroeder loves to participate in Dae Ryun. He wrote his Masters Thesis on the ability of traditional Hyungs to rejuvenate the body and cause vitality. He enjoys examining hand to hand self-defense methods and weapon use. He takes great joy in seeing a student learn to live the warrior lifestyle.
Rank: 5th Dan
Master Instructor at Tahoe City Martial Arts Academy
Year started training: 1972
Trains under Grandmaster Robert Beaudoin
Other interests: Being a good father and husband, natural healing and innate potential, skiing, snowboarding, surfing and cycling